Click for details on Indoor Boarding.
"Caring for your equine friends."
Our horse stable is close to town to save you gas and time.
Located ONLY 2 MILES from Green Bay!
Call 920.497.0925 or email us.
Outdoor boarding includes:


Secluded large paddock tucked within a quiet wooded setting.


Mature trees surround paddock offering plenty of shade and protection from wind.


Regular upkeep with wood chips added and tilling for a healthier environment.


Large run-in shed for plenty of cover from the elements.


Horses fed quality hay 3 times daily.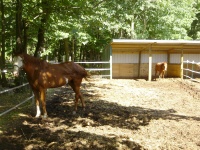 Water available 24 hours a day and heated during the winter months.


Large outdoor riding arena and lighted for riding later in the evening.


Small scenic wooded trail next to flowing creek to walk or ride your horse.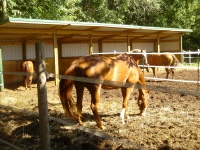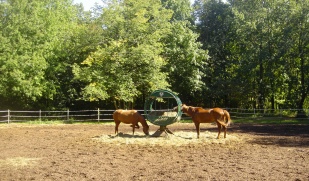 Outdoor boarding also include the amenities of the indoor facility like:


Indoor riding arena within fully insulated barn, very comfortable to tack up and ride in!


Wash stall with hot and cold water to bathe your horse.


Wash area with sink and drying racks.


Lounge with sitting, TV/VCR, refrigerator, and microwave.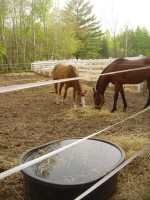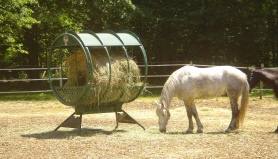 Shared storage area for tack trucks and gear.


Nicely decorated restroom with air in summer and heat in winter.


Stable hours are 10-9pm daily.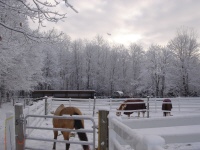 Over time we have improved upon our facility and intend to continue.
It is our goal to make Thornberry Stables an enjoyable place to ride your horse!
___________________________________
To board a horse or to set up an appointment for a personal tour,
please email the owners.